Featured Upcoming Events
No event found!
How the fertilizer that grows our food poses a threat to our water
It's Saturday, April 3, and I'm standing on a Pinellas County dock waiting to board a boat when my phone bleats:
Piney Point in danger of imminent collapse.
A quick Google search tells me I'm 20 miles away from the Manatee County site. And my first thought is: What, exactly, is Piney Point?
In the coming days, the nation would come to know.
The leak in a reservoir at the old phosphate plant, and the subsequent discharge of more than 200 million gallons of contaminated water into the Tampa Bay was —and is—an acute environmental calamity. The discharges were necessary to save lives and property; had the radioactive phosphogypsum-stack walls of the retention area collapsed, hundreds of homes could have been inundated by a toxic tidal wave.
Instead, the bay was.
Over the course of 10 days, about 200 tons of nitrogen went into the bay; scientists said that's what the bay usually gets in a year.
A few months later, the bay and then much of Florida's west coast was caught in the grip of a ghastly red tide that caused massive fish kills. By Aug. 2, Pinellas County had picked up 1,753 tons of dead sea life and debris, just short of the 1,862 tons collected during the last big red tide event in 2018.
The question was obvious: Did Piney Point cause this?
The answer: Most likely, no.
But did it contribute? Count on it.
Karenia brevis—the red tide organism—was already present offshore by the time the Florida Department of Environmental Protection authorized Piney Point owner HRK Holdings to begin discharges into the bay near Port Manatee. But with those discharges, "You saw an increase in phytoplankton production in a very significant part of the bay," said Dr. Thomas Frazer, Dean and Professor at the University of South Florida College of Marine Science in Tampa, and Florida's Chief Science Officer from June 2020 to March 2021.
"That could certainly help fuel a red tide bloom."
Dr. Cynthia Heil, Mote Marine, who has been studying Karenia brevis for thirty years, was more direct with her assessment. "I have never seen a red tide this bad," Heil commented. She then followed up with, "Undoubtedly Piney Point led to the severity of the red tide event in Tampa Bay."
Heil referenced a recent study of red tides in southwest Florida. The 2020 study by Miles Medina and others from the University of Florida set out to uncover whether nearshore bloom dynamics observed near Charlotte Harbor were driven by terrestrially sourced inputs of nitrogen, phosphorus, and freshwater between 2012 and 2018. The study concluded with: "K. brevis bloom dynamics were systematically influenced by NOx concentration dynamics at the Caloosahatchee River discharge point (S79 station). These results suggest that the duration and magnitude of bloom events would be mitigated via implementation of nitrogen source and transport controls within the watershed.
And as for the failures at Piney Point, he blames the owners; the state DEP has sued the company.
Meanwhile, a coalition of environmental groups have sued DeSantis, the FDEP and HRK Holdings, alleging all involved knew Piney Point was a ticking time bomb, yet did nothing.
In many ways, Piney Point is unique. A big part of the problem is that the FDEP allowed the site to be used to store dredging material from a Port of Manatee dredging project in the early 2000s. At the time, the U.S. Army Corps of Engineers warned the FDEP it was a bad idea. Turns out they were right.
On the other hand, Piney Point isn't really some one-off.
Rather, it might be seen as the latest poster child for an industry that's long been by dogged by significant environmental concerns.
Phosphate mining is an $85 billion juggernaut that helps feed the world. Some 60 percent of the phosphate mined in the United States comes from Florida; first discovered in the Peace River in the 1880s, the rock is processed into fertilizer, animal feed and other products.
Phosphate fertilizers helped wean farmers off manure and ushered in the modern agricultural era. The industry supports tens of thousands of jobs and pays millions in taxes. It has lots of clout in Tallahassee, the state capitol.
But here's the problem:
For every ton of phosphoric acid for fertilizer produced, five tons of phosphogypsum waste is produced. It's radioactive, so there's no real use for it—though in late 2020 the federal Environmental Protection Agency announced it would permit its use in some road projects. Following a huge outcry, President Joe Biden's DEP reversed course.
…radioactive waste piled in 'gypstacks' around the state. Then there's the toxic 'process water' stored inside.
So the material gets piled into huge "gypstacks" hundreds of feet high. If you've driven through the central part of the state you might have seen them; in flat Florida, they dominate the landscape.
What you won't see are the millions of gallons of "process water" stored inside the stack, liquid which might contain diluted sulfuric and phosphoric acid and ammonia. The water gets treated and is gradually discharged into nearby water bodies. It's all supposed to be safe and sound.
Except sometimes, it isn't.
In 2016, a huge sinkhole opened up at a phosphate plant owned by industry giant Mosaic in Mulberry, Polk County. Some 215 million gallons of contaminated water was dumped into the aquifer. Neither the company nor the DEP alerted the public for 19 days.
In 2004, winds from Hurricane Frances caused waves to bash through a dike at a Mosaic processing plant in Riverview, Hillsborough County, spilling 65 million gallons of acidic wastewater into Archie Creek, which flows into Hillsborough Bay. Fish, mangroves and sea grass died.
In 1997, when a dam atop a gypstack in Mulberry broke during heavy rains, 56 million gallons of wastewater went into the North Fork of the Alafia River, killing virtually everything for 42 miles between Mulberry and Tampa Bay—377 acres of vegetation, an estimated 1.3 million baitfish and shellfish and nearly 73,000 gamefish near the river's mouth. The company that owned the gypstack, Mulberry Phosphates, declared bankruptcy and shut down.
Captain Paul DeGaeta goes back even further. A Punta Gorda resident and co-founder of the Peace River Charlotte Harbor Awareness Group—PReaCH—DeGaeta sent me newspaper clippings from half a century ago that'll raise the hair on the back of your neck.
1960, Wauchula: Thousands of dead fish floated down the Peace River, victims of "phosphate sludge" dumped into the river upstream when a dam broke. The Florida State Game and Fresh Water Fish Commission predicted it would take up to six years before the fish population recovered.
1967: An estimated 15,000 acre feet of phosphate sludge "wiped out a large section of the Peace River near Fort Meade… (choking) the game fish population, smothering stream vegetation and turning the river a chalky white color for miles."
1971: Two million gallons of phosphate waste is spilled into the river near Fort Meade; the mortality rate of fish in the river following the spill was 90 percent.
DeGaeta said seagrasses were wiped out after the 1967 and 1971 spills and never came back.
"Two things happened on the Peace River in 1885," said DeGaeta, who's had his captain's license for 40 years and grew up on the river. "Tarpon fishing began as a rod and reel sport, and phosphate was discovered.
"One was a blessing. One was a curse."
There are 27 phosphate mines in Florida, covering 450,000 acres— though only 9 mines are currently active. Most are in Bone Valley, which includes parts of Hardee, Hillsborough, Manatee and Polk counties. Named for the large number of prehistoric fossils discovered there, the valley holds America's largest known deposits of phosphate.
At one time, said Jeff Clyne, a board member of the Florida Phosphate Political Council, some 440 companies clamored for a piece of the phosphate pie in Florida. It was a gold rush mentality—with about as much environmental responsibility as you'd imagine.
"The robber barons of the past, those bad actors are gone," Clyne insists. In their place, he says, are modern, responsible companies."The industry is now safer than it's ever been," said Clyne, who's been around the industry for 47 years and is CEO of Midstate Industrial Maintenance in Lakeland.
Barron, for Mosaic, said its piles of waste are "designed and engineered" to modern standards.
Jackie Barron, a spokewoman for Mosaic, which owns 12 of the 25 gypstacks in Florida, said its towering piles of radioactive waste are "designed and engineered to modern standards," inspected frequently by employees, supervisors and third-party firms. Routine flyovers, sonar surveys and monitoring wells are utilized, as are newer tools like a "geoph
"There are zero similarities between the abandoned Piney Point manufacturing site and (Mosaic's) managed and maintained gypstacks," she said.
Beyond this, the company has set aside hundreds of millions to cover the cost of gypstack closures.
And it's working to find beneficial uses for phosphogypsum, including a project with University of Florida students to safely use the material in road building.
"Our goal of finding a more environmentally sound practice than storage in above-ground stacks remains a top priority," said Barron.
"Every time you have a mine, there's a chance you could have an accident sooner or later," said Jim Tatum, a board member of Our Santa Fe River, which has been battling the plan. "This is so close to the Santa Fe River, it could dump millions of gallons of process water" should there be a mishap.
In Bone Valley, Mosaic has proposed expanding its gypstack at the New Wales plant in Mulberry—the same plant where the sinkhole opened up in 2016.
And the company wants to build a new mine in DeSoto County. That plan seemed to hit a dead end in 2018, when county commissioners voted to deny the company's rezoning request, concerned about the potential impact on fragile Horse Creek, a major tributary of the Peace River.
But, facing a potential lawsuit by the company, county officials relented and agreed to a mediation process which will take up to four years.
People for Protecting Peace River, a group trying to stop the plan, paid for a huge "Say NO Desoto!" billboard along State Route 70 just west of Arcadia. "We've gained a considerable amount of support from Charlotte County, a much more populous county to the south," said Brooks Armstrong, the group's president. "They get their drinking water from the Peace River, and they're concerned—and they're right to be."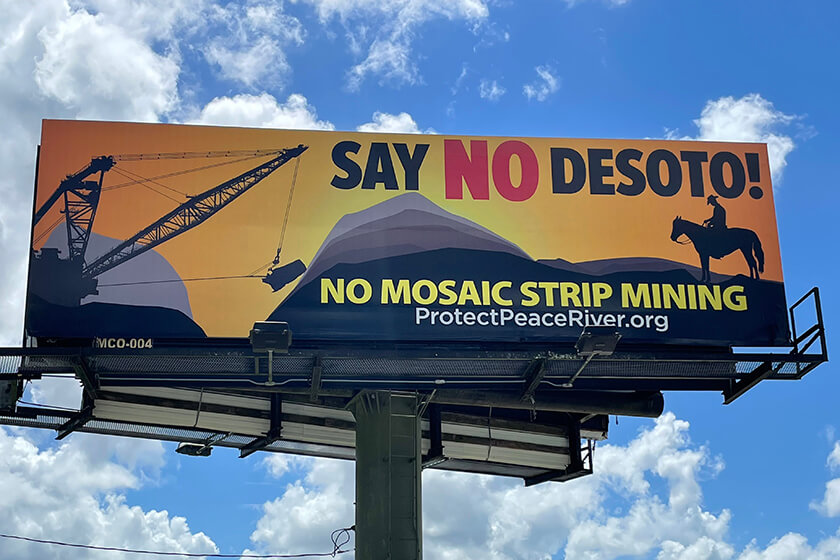 Elsewhere across Bone Valley, other grassroots groups are springing up in opposition to new or expanded mining/processing proposals. Social media in particular is helping them find one another and make common cause.
The Center for Biological Diversity, partnering with many of them, has filed a series of lawsuits in recent years, including the May lawsuit against Florida Gov. DeSantis, the state DEP and Piney Point owner HRK Holdings.
"The problem isn't just Piney Point, it's chronic, systemic, long-term," said Jaclyn Lopez, the Center's Florida director.
But Piney Point did rivet the nation's attention—and raise awareness of those systemic issues.
Today, the red tide in Tampa Bay has abated, though it continues to bedevil other portions of Florida's west coast. But in July, with millions of dead fish littering the region's beaches, the state Fish and Wildlife Commission announced redfish, trout and snook in Tampa Bay would catch-and-release only through September.
Similar restrictions, in place since the 2018 red tide, had just been lifted two months prior.
And then there's always the possibility that the problems aren't done at Piney Point. In late August the Florida DEP sought an emergency court hearing, hoping to wrest control of the site away from HRK Holdings, saying the heavy rains of hurricane season could trigger new problems, more releases into the bay—and more ramifications.
Glenn Compton of the conservation group Mana-Sota88 has been following the travails of Piney Point for years. "We've had numerous legal dealings with the mismanagement of the facility over the decades," he said.
And we're just one more storm away from another catastrophic event, he said.
"This is an eyesore for the phosphate industry," said Compton.
"And it's not going away anytime soon." FS
Gil Smart, a 30-year newspaper columnist and investigative reporter, is Policy Director for Friends of the Everglades in Stuart.
Florida Sportsman Magazine October 2021