Plastic World or Plastic-Free World?

Illustration by Erica Cirino
Well, I am old enough to remember Bakelite, a hard, brittle material, usually black, used as knobs and insulators in early electronics.  I guess this was the start of it all.
Perhaps awareness and education are the best methods to combat this extremely important issue.
Companies such as Nestle promote the false notion that they are recycling their polluting product: they state over and over that their plastic bottles are 100 per cent recyclable, but neglect to say that almost none is recycled.  Just that they could be.
This is similar to companies or developers who come before water management boards and county commissioners saying that their aggressive actions will be "monitored," which is absolutely meaningless.  But WOW! does it ever ease the conscience of those allowing it.  Those are magic words which usually work for our "water protectors" who are just looking for a way to give away the water to a polluter and still pretend they are protecting.
So, what can this company do if it  sees that their toxic poisons have suddenly contaminated our aquifer thousands of feet below the earth?  How can they rectify this?
Of course they can't fix it, but rest at ease, they are still "monitoring."
OSFR sends thanks to Erica Cirino and to Yes Magazine for permission to use her illustrations and the images in her excellent article, the original  which can be found at this link
Comments by OSFR historian Jim Tatum.
jim.tatum@oursantaferiver.org
– A river is like a life: once taken,
it cannot be brought back © Jim Tatum
---
Plastic World or Plastic-Free World?
The plastic crisis is tied not only to ecological destruction, but also drives systemic injustice. With plastic's fall, will we rise?
15 MIN READ  May 10, 2021
IT'S EASY TO PROTECT OUR SPRINGS!!
LIMIT THE USE of fertilizers and pesticides in your environment. Remember that because of our Karst Topography, chemicals used on your lawn and garden can drain quickly into our aquifer and then flow back up into our springs and rivers. Click here for more ideas.
---
By the time I set out in 2016 with a crew of volunteer researchers to sail an old steel sloop named Christianshavn to the Great Pacific Garbage Patch, public perception of plastic had shifted away from its longtime reputation as a modern human-made miracle to something more sinister.
My first thought as we entered the Garbage Patch was that we'd gone off course. After passing through rough waters outside the clockwise-spinning North Pacific Gyre, where the patch is located, we did not encounter the floating dump of human detritus we'd expected. Instead, we sailed through what seemed like clean blue sea, growing calmer the further we sailed west, away from Los Angeles, toward Honolulu.
Before long, one of the sailors, Danish plastic expert Malene Møhl, called the crew's attention to the waters beneath our ship, which revealed an even more dangerous situation as the sea seemed to shape-shift before our eyes. As the waters calmed, we could see the Garbage Patch was not so much a mass of trash but a soup: the shredded corner of a sun-bleached orange plastic fish crate, a fist-sized chunk of white Styrofoam, a green shampoo bottle, a pink dustpan.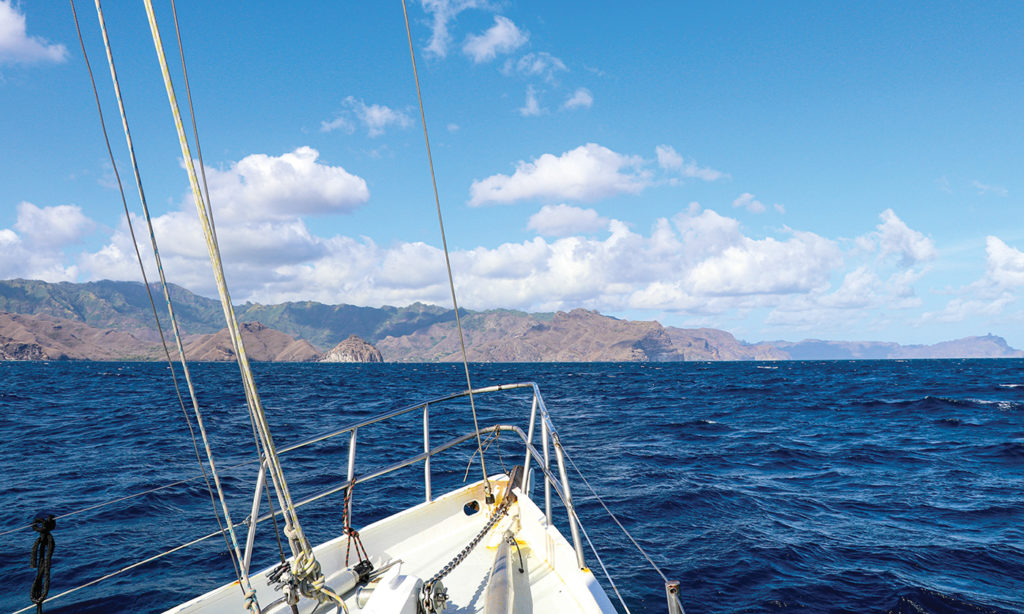 While sailing, the crew dipped trawl nets into the sea, each of which pulled out hundreds of tiny plastic particles: microplastic. The shedded particles created a dense cloud in the Garbage Patch, which circulated in the spinning gyre. In this remote part of the ocean, 1,000 miles from any people who might be using or making the material, we detected hundreds of indomitable emblems of humanity, a massive and ever-growing collection of plastic objects and particles that will never biodegrade.
Thanks to the sailors, scientists, environmental justice advocates and activists, and so many others who have chosen to bear witness to the universal harm of plastic and share their stories over the past several decades, the truth is now out. All life-forms—humans, other animals, and the Earth—are beginning to feel the weight of that harm, some more than others. Now, more than any other point in our history, is proving to be prime time for course correction.
How did we get here? 
People have long had a proclivity for accumulating stuff, which, beyond mere utility, can confer messages about one's wealth, status, and view of the world. The first mass-produced plastic, celluloid, used natural organic materials from trees and cotton: camphor and nitrocellulose. It was invented in the late 1800s to bypass inherent limits on materials available in nature—specifically ivory, which was becoming scarcer with every elephant slaughtered. Until then, ivory, tortoiseshell, horn, and other animal parts were used to make popular consumer products, particularly valuable items seen as luxuries, such as jewelry, furniture, and art.
Though celluloid could be formed into a variety of products, from photographic film to table-tennis balls, it was not exactly the ideal consumer material industrialists had hoped for: It could be tricky to mold consistently, and tended to lose its shape when reheated. Plus, celluloid proved to be extremely flammable. Then came Bakelite, the world's first synthetic plastic, created in 1907 by Belgian inventor Leo Baekeland.
To make his plastic, Baekeland tapped fossil fuels, which were rapidly gaining popularity as replacements for whale oil and other early animal- and plant-based fuels. On the day of his discovery, Baekeland wrote in his diary, "I consider this day's very successful work, which has put me on the knot of several new and interesting products, which may have a wide application as plastics and varnishes."
Of course, the material Baekeland helped pioneer went on to do so much more than that. With further tweaks, petrochemical-based plastic—of which there are now thousands of varieties, each with its own unique chemical makeup—has revolutionized medicine, giving rise to sterile, mass-produced, relatively low-cost health care supplies that indeed have saved lives. It has made everyday human activities safer, with the development of plastic protective gear like helmets and airbags. And it's used to keep humans technologically connected: Plastic is in our electronics, power plants, electrical transformers, and the undersea cables supplying the internet.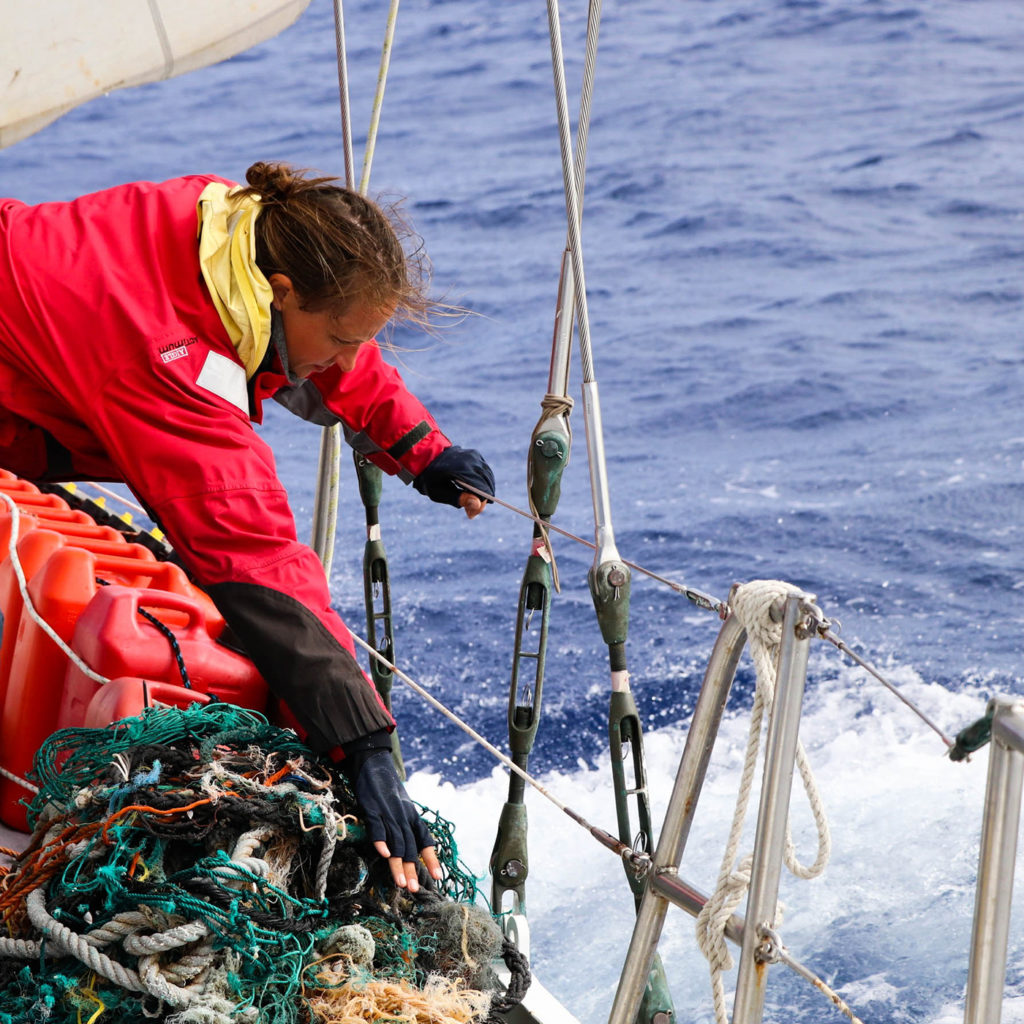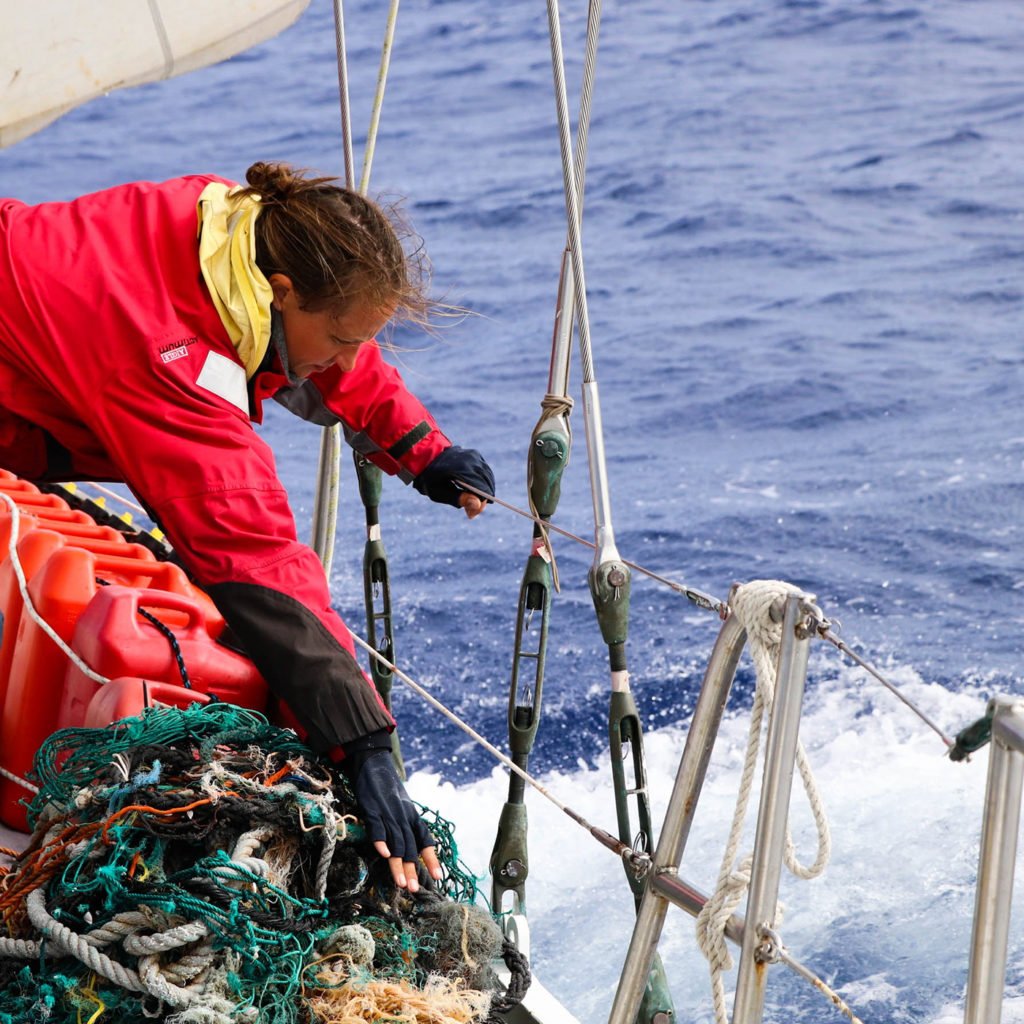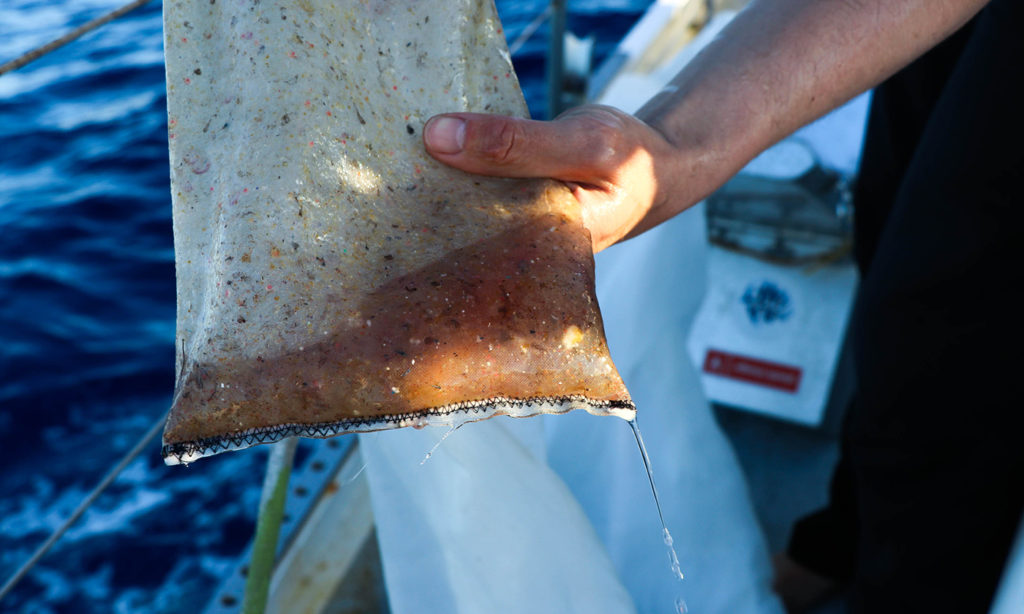 Another researcher, Kristian Syberg, examines his haul of microplastics.
Still, we cannot overlook the fact that plastic is ultimately a harmful substance that cannot be composted, and is produced using petrochemical ingredients supplied by the oil and gas industry. As early as the 1960s and '70s scientists understood plastic's permanence and presence in the environment, where it harmed wildlife. The plastic and petrochemical industries immediately worked to shut down that kind of scientific research, according to Edward J. Carpenter, an early plastics researcher who published two landmark papers in the journal Science in 1972, among the first to describe "plastic particles" in the oceans.
"For both papers in Science, the Society of the Plastics Industry sent a representative (twice) to Woods Hole, basically to intimidate me," Carpenter claims. "I was not given tenure at Woods Hole Oceanographic Institution, and I think the plastic papers hurt my career there." The Society of the Plastics Industry trade group, now known as the Plastics Industry Association, refused to confirm or deny Carpenter's claims when reached for comment.
While Big Oil may have muffled early plastics research, it could not shield the public's eyes from the plastic waste building up all around them—in landfills, on beaches, on streets, in the oceans. People began to speak out in the 1960s, and by the '70s plastic had become a public relations nightmare for plastic and petrochemical industries. So those industries manufacturing products typically made of one type of plastic, like bottles, instructed the world to recycle plastic without seriously participating in or facilitating recycling. On top of that, much modern packaging, objects, and clothing are commonly assembled using multiple plastic components—of various plastic formulas—many of which are not recyclable.
Clearly, recycling is not the solution.
The 1950s mass production boom of petrochemical-based plastic has created to date more than 8.3 billion metric tons of mostly non-recycled material worldwide—in 70 years only 9% has been recycled. This dismal number is not for lack of people trying to recycle plastic, but the result of poorly designed and outdated recycling systems and our inability to recycle certain kinds of plastic. Much plastic intended for recycling—that is, placed in a bin and shipped to a recycling facility—ends up in other countries, usually burned or dumped in a landfill or in nature. Recently, recycling took another blow as it's become cheaper for manufacturers to buy freshly made plastic than purchase the recycled stuff—which usually requires chemicals and plastics to be added during the recycling process in order to be durable enough to reuse.
A small portion of discarded plastic—including some that is collected for recycling—is incinerated, which sends toxic chemicals and greenhouse gases into the atmosphere. Most plastic we use ends up clogging landfills or in nature as pollution. But plastic industry trade associations—to which major brands, recyclers, and plastic manufacturers belong—have had us believing otherwise, surely delaying our collective attention and action.
"Those making and selling plastic have long been narrowing the conversation about plastic waste to litter rather than a wide sweep of all the issues," says John Hocevar, Greenpeace's oceans campaign director. "And so plastic industry trade groups' ads focus on telling us about the end-of-pipe solutions—namely, recycling—rather than how to address the root of the problem, which is making plastic."
Plastic-positive advertisements have been aired across all manner of media, first by chemical companies and today by plastic industry trade groups. Their public service announcements continue to extol the virtues of recycling, giving us a false sense of security as we get increasingly used to the idea of living in a world awash in plastic.
Before plastic came to be widely manufactured and sold, "it was not in the culture to use something once and throw it away," plastic historian Rebecca Altman, Ph.D., has said. In a piece she wrote on the history of the plastic bag, Altman mentions that a 1950s packaging magazine editor advised industries that "the future of plastics is in the trash can." As recently as the early 1960s, many people in the U.S. and Europe had milk delivered to their homes in returnable, refillable glass bottles; they carried reusable cloth sacks for groceries; they brought tea towels to hold bread purchased at the baker. Today, we use plastic.
Companies sell plastic to us all, including children—whose toys, clothes, bottles, and diapers are all made of the stuff. And we buy it up, as plastic's affordable prices have made material wealth seem accessible to people across class divides.
As we consider how plastic is shaping our planet, we must also reflect on the ways plastic is shaping us: Research shows microplastic particles carry toxic chemicals and colonize the living bodies of plants and animals—including humans. The health consequences from our inadvertent exposure to microplastic particles—through food, drink, and the air we breathe—and the dangerous chemicals they carry are just beginning to be understood.
While we all must live in a world with plastic, some are also forced to carry the additional physical and emotional burden of living in the shadow of the dirty refineries and dangerous manufacturing plants where plastic is made. Indeed, plastic has helped perpetuate systems of injustice from the moment its oil-and-gas building blocks are extracted from the Earth.
As environmental justice leader Peggy Shepard, of WE ACT for Environmental Justice in New York, explains, "People of color bear a disproportionate burden of the health impacts of plastic production and disposal. Petrochemical plants are always located in low-income communities and communities of color, churning out toxic air pollution and leaching toxic chemicals into the soil and water, resulting in clusters of cancer and other chronic diseases."
Plastic and injustice
In St. James Parish, Louisiana, an hour's drive west of New Orleans, Sharon Lavigne, a retired special-education teacher, has spent the past several years bringing her community members together to address the physical and environmental harms of Big Plastic and Big Oil.
Lavigne and her neighbors in St. James Parish live in an area called "Cancer Alley" for the health risks associated with living in proximity to approximately 150 petrochemical refineries, plastic manufacturing complexes, and other chemical facilities. Cancer Alley stretches for about 85 miles along both banks of the Mississippi River, between New Orleans and Baton Rouge. Much land here once belonged to plantation owners who enslaved the ancestors of the people who now live in this formerly agrarian region.
According to EPA air pollution data, people living in Cancer Alley are exposed to some of the highest levels of toxic air pollution in the U.S., produced by industrial facilities placed predominantly in African-American neighborhoods. While across much of the U.S. cancer risks run around 6 to 25 in a million, throughout Cancer Alley cancer risks are much higher, rising all the way to 2,000 in a million in one area of St. John the Baptist Parish. That's largely due to the presence of a single neoprene factory, Denka Performance Elastomer, which emits carcinogenic chloroprene gas, among other chemicals. In addition to increasing communities' exposure to disease-causing chemicals, such industrial processes are contributing to human-caused climate change. This, in a place already enduring what scientists say seems like a barrage of increasingly violent hurricanes and searing heat.
Lavigne says it's as if those behind the big corporations want African Americans to "die off."
"The intentional placement of industry here, and the poisoning of our community, reflects a racist society," says Lavigne, who formed a Christian faith-based activist organization called RISE St. James to fight continued development in Cancer Alley.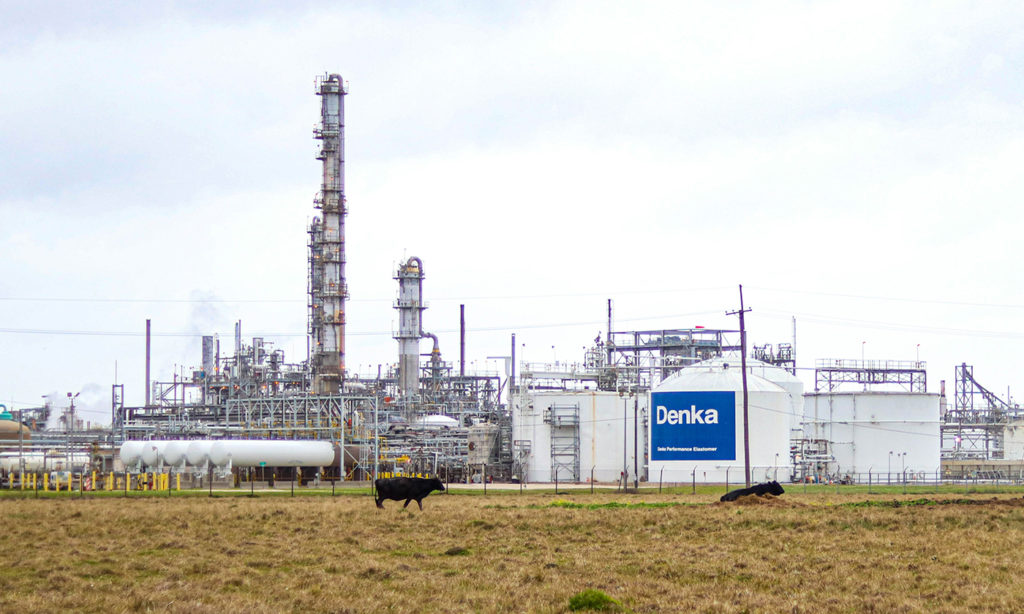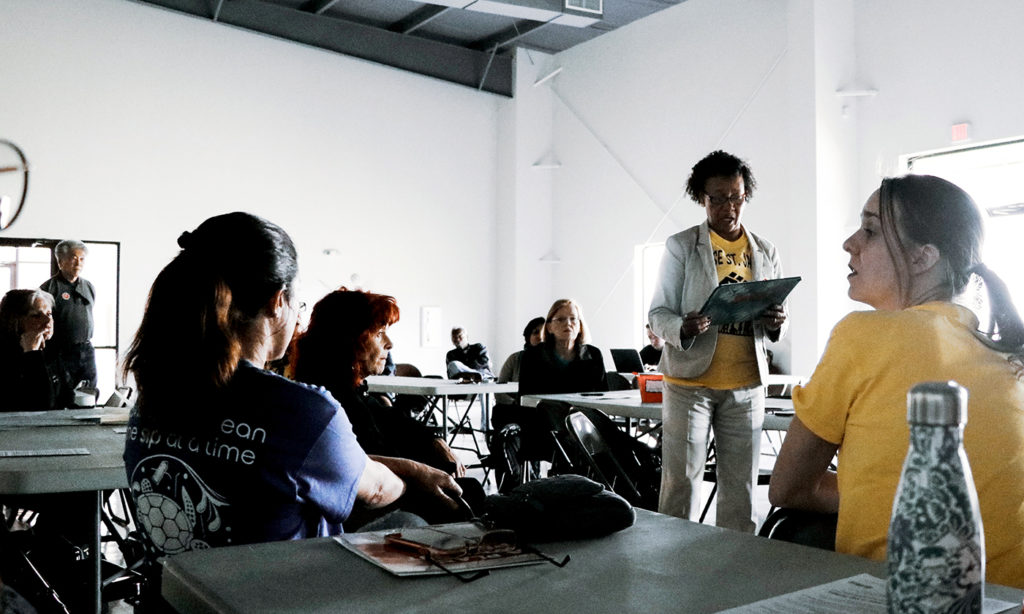 Barbara Washington of RISE St. James helps lead a community meeting.
Most recently, Lavigne has focused RISE's efforts on blocking FG LA LLC (a branch of Taiwanese industrial conglomerate Formosa Plastic Group) from constructing a 2,400-acre, $9.4-billion plastics factory called the "Sunshine Project" in her community. So far, they've been able to stave off the factory—by bringing lawsuits against FG LA LLC and the State of Louisiana, which is notoriously pro-industry; by calling out corruption in their government; by showing up to hearings; and by watching, always, for the company's next moves. In March 2021, United Nations human rights experts condemned the project, and called on the U.S. government "to deliver environmental justice in communities all across America, starting with St. James Parish."
In addition to Cancer Alley, where petrochemical infrastructure has long existed in communities of color, corporations have also aimed to increase plastic production along the Louisiana and Texas Gulf Coast and in the rural Ohio River Valley, according to Delia Ridge Creamer, oceans campaigner at the Center for Biological Diversity, who is tracking new construction of plastic infrastructure. Creamer says that in Appalachia, corporations are focused on making plastic from natural gas extracted by fracking wells already polluting low-income communities.
In many developing nations, the injustices due to plastic production are hidden in the guise of recycling—and the international trade in plastic trash, which lies behind it. For decades, the world's richest countries have paid other countries—most often nations in Africa, South Asia, and Eastern Europe—to accept enormous quantities of their populations' plastic waste for recycling. However, most imported plastic, like all plastic, is not recycled. Instead, other nations' trash ends up dumped, and often burned, in neighborhoods with the same characteristics as those places where plastic is made. That is, they are most often low-income and populated by people of color.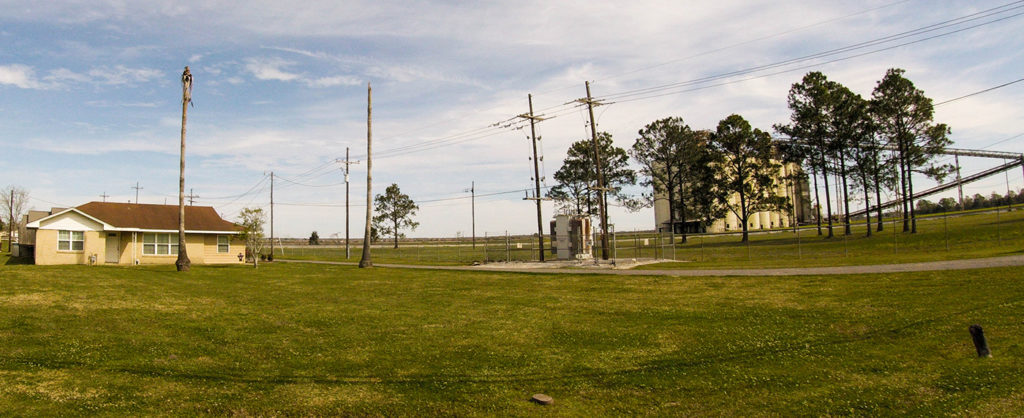 "The nations accepting trash are most often unequipped to actually recycle it," says Hocevar. "Governments and recyclers have long tried to hide the existence of garbage imports and exports—and the injustice it creates."
What to do in a world awash in plastic? 
On a local, personal scale, one of the most accessible and most popular ways to address the plastic crisis is through cleanups, an activity that can reduce local pollution, raise community awareness about plastic, and contribute to scientific data on litter composition—growing our knowledge about the problem.  But cleanups are only a small step in the right direction.
A conundrum faced at the end of every cleanup underscores the need for a multifaceted approach to solutions: There is no great place to put the plastic waste once collected, and while some are trying to perfect methods for recycling weathered plastic debris, at present it's too costly and complex to roll out—and much litter is too contaminated to be recycled.
Yet cleanups continue and a tiny fraction of the plastic pulled from the environment does get a second life. While falling short of making a significant dent in removing plastic from the oceans, waste repurposed as art—like Cindy Pease Roe's intricately detailed animal sculptures made of litter found on beaches—and as apparel—like sneakers, also made with plastic plucked off shorelines, as part of a collaboration between Parley for the Oceans and Adidas, can help spread awareness.
There's so much trash lying around, people have begun to pave streets with it. A growing number of plastic-and-asphalt roads and paths have been built in countries around the world, primarily in Asia and Africa. In India, petrochemical giant Dow is pushing to build these roads as a way to manage plastic waste, as it continues to expand its plastic-making operations.
To seriously address the plastics crisis we must do more than clean up; we must end the demand for plastic: use less, or, ideally, use none. "You wouldn't just mop up water off your floor if your bathtub were overflowing with water," says Møhl, the Danish plastic expert. "You'd turn off the tap."
Growing awareness of the plastic crisis has quickly led to growing demand for alternatives, such as starch- or sugar-based "bioplastic," algae films and fabrics, and fungus foams meant to degrade benignly when thrown away. However, some of these products are less ecologically friendly than advertised; research has revealed up to 20,000 chemicals—some toxic—in bioplastic products and also in conventional plastics. While much more must be done to ensure these new products are certified and regulated to eliminate toxins and improve compostability, many people recognize the potential of more environmentally benign products in helping ease the transition away from throwaway culture, so we may ultimately arrive at a healthier future without single-use plastics.
But beyond replacing single-use plastic with single-use compostable alternatives, Møhl and others are advocating for a circular way of thinking to replace our present throwaway culture: Instead of making products to throw them away, we need to start making products we can reuse. These are principles embodied by the zero waste movement, which emerged as an antidote to materialism and mass consumption. Some zero-waste projects that began as a result of the plastic crisis include fix-it cafes, where individuals can access free tools and assistance to repair all manner of items, from clothing to bicycles; and grocery stores where food is sold without packaging.
But what to do with the plastic we already have? In Denmark, Møhl has been involved in a pilot recycling program testing the strength of a closed loop, collecting discarded PET (polyethylene terephthalate) plastic food trays and turning them back into food trays—without including freshly made plastic, as is currently done to add strength to recycled plastics. "No special technology is needed now to recycle PET," says Møhl. "In fact, it's one of the most highly recyclable plastics, giving it a lot of potential for circularity."
Former Obama-era EPA administrator Judith Enck says legislation is needed now to support this and other efforts to circularize. Critically, effective legislation must stop new plastic production, particularly of single-use plastic. "If you cannot reuse or recycle it, ban it," Enck says.
Today, the idea of banning or restricting use of specific plastic items is common. So far, more than 1,000 single-use plastic laws have been passed around the world on municipal, state, and national levels. That's in addition to the many institutions, organizations, places of worship, and businesses that have voluntarily reduced their use of plastic, supported by nonprofit organizations like Surfrider Foundation and Surfers Against Sewage, which provide free resources outlining how to start up such grassroots efforts.
Banning hazardous substances is not a new idea. The Stockholm Convention on Persistent Organic Pollutants presently restricts or bans use of more than two dozen highly toxic chemicals once   mass-produced and sold by industries. Today, 152 nations (including most members of the European Union) are signed on.
In the U.S. and Europe, there's legislation on the table now unlike any before: In 2019, the EU implemented a directive on single-use plastic requiring member states to rethink plastic as a resource and close the gap between a plastic item's final use and its potential next life. In the U.S., Enck has helped advocate for the Break Free From Plastic Pollution Act, reintroduced in March 2021 by Congressman Alan Lowenthal (D-CA), Senator Jeff Merkley (D-OR), and more than 90 other members of the House and Senate. The Act requires governments and industries to take greater responsibility for the plastic products they make, phases out some single-use plastics entirely, restricts plastic waste exports, and places a temporary moratorium on permits for new and expanded plastic facilities—ultimately pushing corporations and industries to stop producing certain non-recyclable single-use plastic products.
Unsurprisingly, corporations selling plastic, and the petrochemical and plastic industries, are fighting against passage of anti-plastic legislation in legal proceedings, in the media, and by lobbying for the passage of preemptive bans on single-use plastic bans. "The biggest hurdle to getting the Break Free From Plastic [Pollution] Act passed is to get past plastic lobbyists in every state legislature and Congress who are trying to tinker with the language of the law so that it's less effective," Enck says.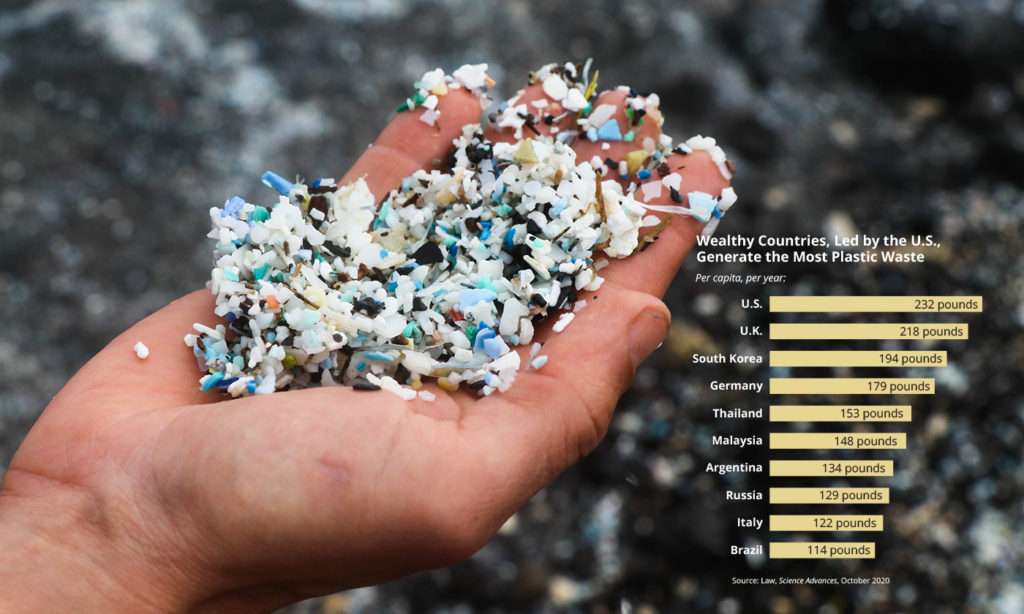 A way forward
Globally, there is a growing push for change, as humans can now recognize plastic pollution as a crisis touching every one of us; indeed, it is not just a problem afflicting the oceans. Two-thirds of U.N. member states expressed openness to considering the option of a new agreement on curbing plastic production in 2020.
"Even if we managed to stop using plastic today, the crisis will continue to unfold into the future," says Kristian Syberg, plastic researcher at Roskilde University in Denmark, whom I sailed with on the Garbage Patch. All the plastic items in nature will continue to shed microplastic particles, spreading plastic pieces far and wide—with yet-unknown consequences for our bodies and our environment.
What kind of future can we hope for on our plastic planet?
Legislation mandating circular plastic production and use could help reduce waste, but only if it is implemented in tandem with the other necessary pieces of the solution, most importantly, circularizing our human values. A circular basis for our entire economic system, which such comprehensive new plastic legislation would support, could give rise to more jobs that help rather than harm Earth and its inhabitants. According to the International Labour Organization, a transition to a circular economy would grow worldwide employment by an estimated .01%, or around 6 million jobs, by 2030 compared to our present economic system. Leading areas for job growth in this new economy include waste management and related services, like recycling and repairs, should humanity start implementing the changes needed to support a circular economy.
Anticipating the global shift away from fossil fuels, some major oil and gas companies are now investing in renewables like solar and wind; in the future, it seems, they may no longer be legally permitted to deal in oil and gas and plastic. Fossil fuel corporations' transition to renewables must be accompanied by strict enforcement of regulations requiring increased transparency and accountability, to prevent these industries from harming human communities and the environment again. If we succeed, communities could be healthier and justice could be served.
To get there, we have a long way to go. But if we can work together to challenge the industries driving the plastic crisis, we may also be able to dismantle the toxic systemic issues at its core.
"As we build a new economy powered by renewable energy, we need to ensure that it serves everyone—not just those currently in positions of power. And we must seize this opportunity to address systemic racism and other long-standing injustices," says Shepard, of WE ACT in New York. "To do this, we need to approach the transition through a lens of equity, not equality."
To ensure no one is left behind, Shepard recommends prioritizing underserved communities in the transition from fossil fuels and plastic production to renewable energy sources and materials. The jobs, infrastructure upgrades and other key parts of this shift must be made available to those communities most directly affected by historical injustice.
"Decades of disinvestment driven by racism has put communities of color at a massive disadvantage," Shepard says. "This is our opportunity to fix that."
---
"Plastic World or Plastic-Free World?"
---
| | |
| --- | --- |
| | Erica Cirino is a science writer and artist who explores the intersection of the human and nonhuman worlds. Erica is author of the book Thicker Than Water: The Quest for Solutions to the Plastic Crisis (forthcoming, fall 2021). |