Sand Products of Wisconsin mine near Whitehall. Erik Daily, La Crosse Tribune
An additional form of  damage caused by the fracking industry that we often do not hear about is the huge amounts of sand required.  This results in more mines which destroy more wildlife habitat and cause many environmental issues.
Comments by OSFR historian Jim Tatum.
-A river is like a life: once taken, it cannot be brought back-
---
Wisconsin frac sand industry roars back, but new competition looms
Despite new competition, Wisconsin's frac sand industry has come roaring back from a slump that idled mines two years ago, fueled by a continued surge in domestic crude oil production.
"They can pretty much sell all the sand they want," said Kent Syverson, an industry consultant and chair of the geology department at UW-Eau Claire.
After a strong 2017, U.S. frac sand demand is expected to grow again this year and could hit an all-time high in 2019, according to producers and industry analysts.
 "We're looking at a really good year," said Rich Budinger, spokesman for the Wisconsin Industrial Sand Association, who noted that many idled mines are ramping up again.
But while several new projects have drawn public attention this year, industry observers don't expect another wave of new development. Opening a new mine can take years — and millions of dollars — and new competition and oil price fluctuations mean demand might not be there by the time an operator is up and running.
"This wave might be the last kind of expansions—greenfield expansions — that we might see," Syverson said.
Western Wisconsin sand mines have been around for decades, but according to the U.S. Geological Survey, production of industrial sand jumped 10-fold between 2010 and 2014, as advances in hydraulic fracturing allowed drillers to reach previously untapped oil and gas reserves trapped deep underground. Mixed with water and chemicals and pumped into the ground at high pressure, the coarse, round sand found under much of western Wisconsin is an ideal "proppant" to hold open fissures in rock formations.
That growth was curtailed in 2015 as falling oil prices led to a slowdown in drilling, especially in areas like North Dakota. As drills went idle, so did Wisconsin's sand mines, which have laid off hundreds of workers.
State-level production data is not yet available for 2016, but national numbers show that after dropping about 30 percent, production surged last year to 105 million tons, just shy of the all-time record, and experts predict it will grow in 2018. Historically about a third of the national supply has come from Wisconsin.
While oil drilling in the Bakken formation of North Dakota dropped off with the fall in prices, overall domestic crude production is at record levels, with more than a third of it coming from the Permian basin of Texas and New Mexico, where it's far cheaper to produce.
Seeking to extract the most possible oil, drillers are pumping more and more sand into their wells, adding to demand.
That's partly what sent Wisconsin sand companies scrambling to build on the Union Pacific line, which offers a direct route to the Permian.
Sand producers invested hundreds of millions of dollars in rail terminals where they can store hundreds of cars and build fully-loaded unit trains to trim shipping costs. Still, getting a ton of sand to a well site in Texas can add more than $80 in delivery costs to the $44 price.
In response to the high shipping costs, drillers in the Permian have begun using Texas sand, which is finer and generally lower quality but can be mined cheaply right where it's needed.
Several new Texas mines are expected to come online this year and more will be active soon, according to Rystad Energy. But for the time being, this "in basin" sand is not cutting into the Wisconsin market, as Texas mines can't meet the demand and many drillers still need at least some of the coarser northern white sand.
"The Texas sand is a definitely a big deal. However, we think the demand is growing so much that there won't be a negative impact on white sand," said Ryan Carbrey, senior vice president and analyst for Rystad. "That's just because the overall market's growing so quickly that the in-basin mines in the Permian are going to take the majority of that growth, but northern white should still grow a little bit next year as well."
That growth and tight supplies are expected to push the price of northern white sand up 10 to 12 percent this year, Carbrey said.
Rystad analyst Thomas Jacob projects that even if producers in the Permian and Eagle Ford basins moved to exclusively in-basin sand, which he concedes is unlikely to happen, overall domestic demand would still hit 84 million tons by 2021. That's 2.5 times what it was at the peak in 2014.
  And Texas sand is unlikely to compete outside of the Permian, where producers would face even bigger shipping disadvantages than Wisconsin, which has access to all four major railways, giving producers an edge when it comes to serving other North American oil fields.
"We're still cost-advantaged for going to the Bakken, for going to the Canadian prairies, and for going to the Marcellus in the northeast," Syverson said. "That's not going to change any time soon. We're closer to those fields. Even if they did put sand on a rail car coming out of Texas then they would be disadvantaged."
Nevertheless, Wisconsin producers have taken notice.
Bob Rasmus, CEO of Hi-Crush Partners, which operates four Wisconsin mines, told investors he expects this Permian sand will eventually displace much of the northern white demand, even though he forecasts continued growth in the near future.
"My clients are very concerned about what's going on in Texas," Syverson said. "If I'm an investor I would be more careful now than if the Permian basin were not developing all these other mines."
The bigger threat, according to Rystad, is the potential for the self-supplied sand model to spread. Jacob said it's already happening in Oklahoma and being explored in the Rockies, though he questions if it would be practical in places like North Dakota or northern Appalachia.
"If this becomes a phenomenon and everyone starts investing in these local supply centers," Jacob said, "then northern white sand is at risk."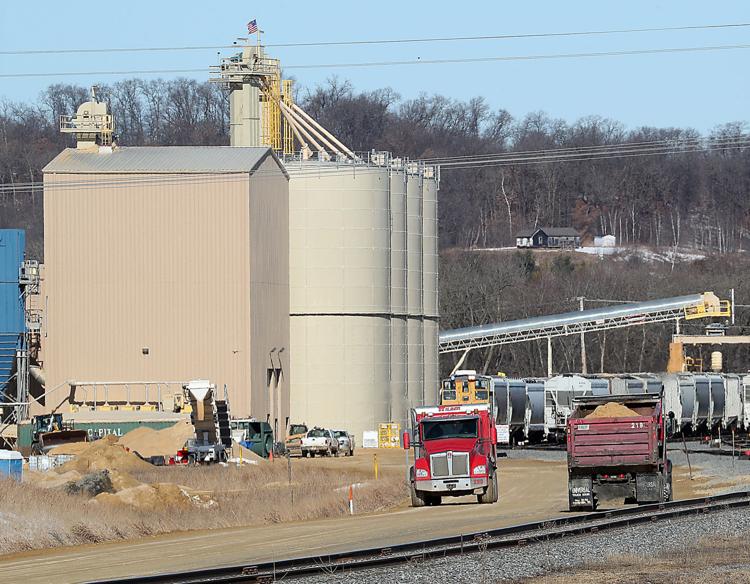 New development slows
Several proposed mining ventures, including Meteor Timber's proposed facility in Monroe County and a pair of mines in Jackson County, have been in the news lately because of legal challenges and controversy over their environmental impact.
But those projects have been under development for at least a couple of years, and the Wisconsin Department of Natural Resources doesn't have more in the permitting queue.
Jay Zambito, a geologist with the Wisconsin Geological Survey, said he's noticed a change in the nature of calls he fields.
"Previously the questions would have been what is the industrial sand potential," he said. "It's now shifting more toward what are the environmental impacts of sand mining?"
Roberta Walls, the DNR's environmental assistance coordinator for industrial sand, says consolidation has been the bigger theme recently.
"There's been a lot of buying and selling going on," Walls said. "I definitely have seen quite a few instances where we've seen new players come in and buy existing facilities."
In the past year, Preferred Sands sold off its operations in Bloomer and Blair as part of a strategy to focus on in-basin sand. Mammoth Energy acquired Chieftain Sand and Proppant and its facilities in New Auburn as well as Taylor Frac, giving the company unit-train loading facilities on two different rail lines that serve different parts of the country.
Unimin and Fairmount Santrol in December announced plans to merge into a new publicly-traded company that will control nearly a dozen Wisconsin facilities in addition to three of Minnesota's industrial sand operations.
Meanwhile, Walls plans to de-list at least 15 projects that failed to get permits or just never broke ground.
"There's a difference in being permitted and having the capital to move forward," Syverson said.
Ultimately the future of the industry depends on one thing: the price of oil.
"If the price of oil stays up above $60 (a barrel), there's more demand than there is supply," Syverson said. "What if prices went down to $30 a barrel again? Then you have a situation that would not be a good situation for the Wisconsin sand industry."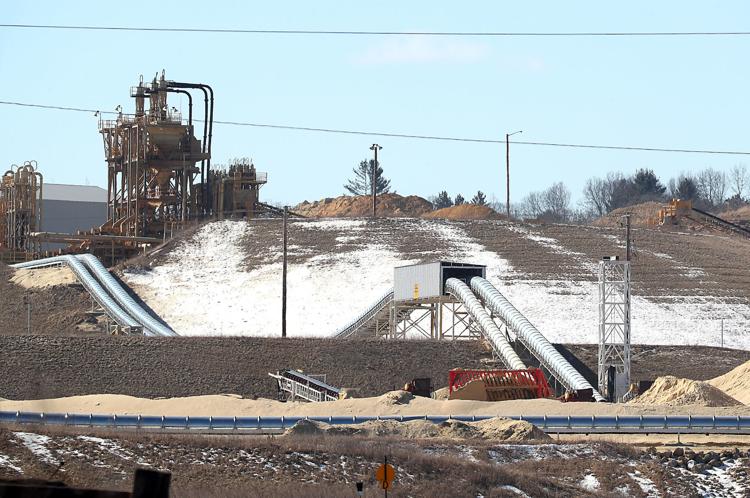 The Hi-Crush Blair frac sand mine.
Erik Daily, La Crosse Tribune